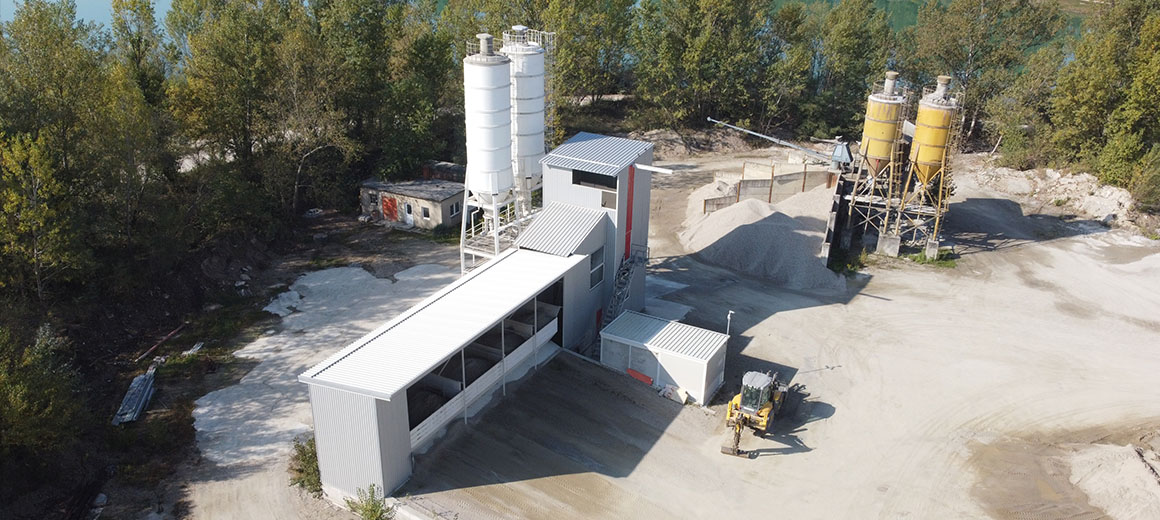 Međimurje PMP d.o.o. owns a concrete factory in Ivanovec which produces different types of concrete of various granulations and consistencies. All produced concrete conforms to quality standards and regulations, is controlled in its own laboratory, and has certificates from the authorized institutions.
On the market, we are recognized as a company that can continually produce and deliver a product of consistently high quality. A wide range of products acts as a guarantee that we can meet all of the project requirements.
CONCRETE TRANSPORT:
Mixer volume 9m3
Mixer volume 6m3
CONCRETE INSTALLATION WITH CONCRETE PUMPS:
Auto concrete pump of 20 meters
Our standard product range consists of the following concrete grouped by exposure classes.


CONCRETE FRACTIONS 0-32 mm
COMPOSITION LABEL
CLASS
EXPOSURE CLASS
ADDITIONAL PROPERTIES
154300
C12/15 D32 S3 (MB 15)
X0
–
204301
C16/20 D32 S3 (MB 20)
X0
–
204000-ZV
C16/20 D32 S0 (MB 20)
X0
–
254300
C20/25 D32 S3 (MB 25)
XC1
–
304300
C25/30 D32 S3 (MB 30)
XC2
–
374400
C30/37 D32 S4 (MB 40)
XC4, XD2, XA1
–
454301
C35/45 D32 S3 (MB 45)
XC4, XD2, XA1
–
CONCRETE FRACTIONS 0-16 mm
COMPOSITION LABEL
CLASS
EXPOSURE CLASS
ADDITIONAL PROPERTIES
153300
C12/15 D16 S3 (MB 15)
X0
–
153000-ZV
C12/15 D16 S0 (MB 15)
X0
–
203300
C16/20 D16 S3 (MB 20)
X0
–
203000-ZV
C16/20 D16 S0 (MB 20)
X0
–
253400
C20/25 D16 S4 (MB 25)
XC1
–
253000-ZV
C20/25 D16 S0 (MB 25)
X0
–
303301
C25/30 D16 S3 (MB 30)
XC2
VDP-2
303302
C25/30 D16 S3 (MB 30)
XC2
–
373302
C30/37 D16 S3 (MB 40)
XC4, XS1, XD2, XA1
VDP-2
373311
C30/37 D16 S3 (MB 40)
XC4, XS1, XD2, XF4
MS56
373111
C30/37 D16 S1 (MB 40)
XC4, XS1, XD2, XF4
MS56
453401
C35/45 D16 S4 (MB 45)
XC4, XD3, XA1
VDP-2
453211
C35/45 D16 S2 (MB 45)
XC4, XS1, XD3, XF4
MS56
CONCRETE FRACTIONS 0-8 mm (mikrobeton)
COMPOSITION LABEL
CLASS
EXPOSURE CLASS
ADDITIONAL PROPERTIES
302300
C25/30 D8 S3 (MB 30)
XC2
–
372301
C30/37 D8 S3 (MB-40)
XC2
–
GLAZE
COMPOSITION LABEL
CLASS
EXPOSURE CLASS
ADDITIONAL PROPERTIES
301000
C25/30 D4 S0 (MB 30)
XC2
–
LIGHT CONCRETE
COMPOSITION LABEL
CLASS
EXPOSURE CLASS
ADDITIONAL PROPERTIES
0.91401
LC8/9 D4 S4
X0
D1,0
0.91402
LC8/9 D4 S4
X0
D1,4
CEMENT STABILIZATION
COMPOSITION LABEL
CLASS
EXPOSURE CLASS
ADDITIONAL PROPERTIES
CS-01
M5 D32
–
–
JET CONCRETE
COMPOSITION LABEL
CLASS
EXPOSURE CLASS
ADDITIONAL PROPERTIES
301401
C25/30 D4 S4
XC2
–
MON-FRI: 07:00 – 15:00
SAT-SUN: CLOSED
Tomica Korunek
Tel: +385 99 5345 654
Email : tomica.korunek@m-pmp.hr